Florence Tours
Create your Florence Experience. Choose from our exclusive Florence tours, guides, and activities.


Meet Florence with the company of a Presto Guide on one of our Florence Tours. Whether it's your first time or your fiftieth, join us for the fast track to Florence's best offerings on our Florence Tours.
Florence is the birthplace of the Italian Renaissance. Home to enthralling art and sculpture including Michelangelo's David. Florence is a city of artistic distinction and home to Dante, father of the Italian language. Its monuments, churches and museums are centerpieces that contribute to Florence's captivating aura. The River Arno majestically cuts through the city creating a stunning cityscape which includes Ponte Vecchio, the Duomo Cathedral, and the Uffizi Gallery.
All of our private tours can be tailored to your group's interests. If you don't see the itinerary you're looking for, let us know and we can consult our team of guides to create the tour for you.
Florence Events
As you probably know, Italy holds tight to its traditions.  From Venice's Carnival Festival to wine flowing through its water fountains in Castelli Romani, to celebrating Mother Mary on her December Roman Catholic holiday, there's scarce a day that some sort of festival isn't going on.  We'll keep you in the loop on events going on during your travel dates so you get to experience the Italian ways.
Travel with Friends
What better way to get to know someone than a trip abroad?  Ok, you may want to get separate rooms but really, it can be difficult to meet up with friends these days.  We are all so spread out so why not plan a little friend reunion in Italy?  There's so many ways to bond with friends while in Italy.  Most all of the ways revolve around food, coffee, and wine of course.  But also walking.  Did you know Italians hold strong to a tradition of taking a "passeggiata" ? A passeggiata is a slow paced stroll where you spend quality time just enjoying.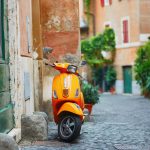 Go Solo
Nervous about traveling solo? With the right precautions and planning, traveling solo is really the best especially when life starts to feel overwhelming.  It provides the opportunity to connect with ourselves and make new connections with fellow travelers and new people.  Of course you need to always walk on well-lit streets and not go out and about alone when you've had too much to drink.  You should have a cell phone on you, memorize your hotel address, and know the local emergency or police phone numbers.